2019 Brooklyn Volunteer Recognition Dinner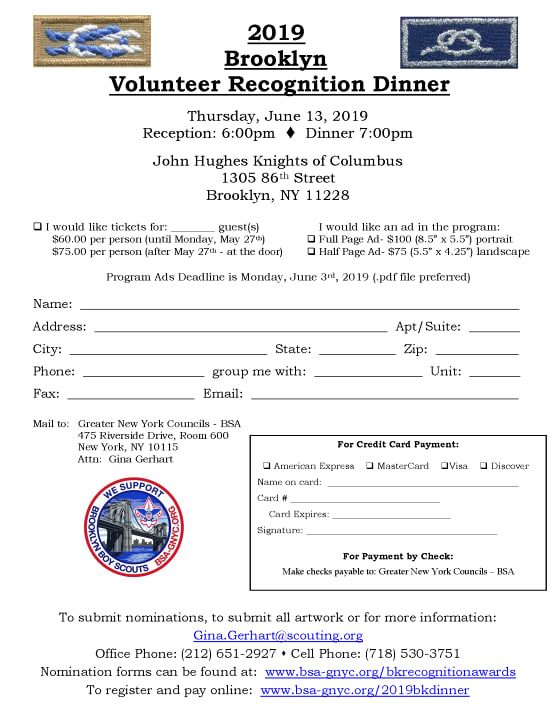 Date/Time:
Jun 13, 2019 6:00 pm to 10:00 pm
Location:
John Hughes Knights of Columbus
1305 86 Street
Brooklyn, NY 11228

The Brooklyn Council invites you to the 2019 Volunteer Recognition Dinner for a night of celebration, camaraderie, and to take an opportunity recognize of the great achievements of fellow Scouters!
Date: Thursday, June 13
Location: John Hughes Knights of Columbus
1305 86th Street
Brooklyn, NY 11228
Time:
Reception 6:00pm
Dinner 7:00pm
Don't forget to nominate a volunteer today! Discover the award nominations, including Silver Beaver, Spark Plug, and District Award of Merit, at www.bsa-gnyc.org/bkrecognitionawards
All nominations must be submitted to Boy Scouts of America, Greater New York Councils c/o Gina Gerhart 475 Riverside Drive, Room 600 New York, NY 10115 or by email at gina.gerhart@scouting.org before Monday, May 6.
PLEASE NOTE, ONLINE REGISTRATION CLOSES ON MAY 27TH, MIDNIGHT